The following is a summary of a presentation entitled "Financial and Management Accounting Software--Developments, Implementation Challenges, and Integration Issues" made in July 2018 to the Farm Financial Standards Council Annual Conference in Champaign, Illinois.
The FBS Integrated Data Model
As described last month, the integration of production and financial data is considered by many to be the "Holy Grail" of farm management. FBS's integration model adapts to both internal and external data.
Internal Data
By using a "master" list of products, locations and groups and "interlocking" financial and production databases, the FBS model:
Eliminates

redundant setup
Provides

real-time inventory control

by recording purchases and sales through accounting and applications, movements, mortality and harvest through production activities
Permits

direct buy/dispense

entries to a field or group
Allows

indirect buy now / use later transaction so that the accounting department doesn't have to know when and where an inventory item will be consumed and the production department doesn't need to know the purchase history or cost of the item
Uses production records (acres/hours/days) as "cost drivers" to automatically and precisely allocate overhead for

precise cost analysis/"closeouts" at the field and group level.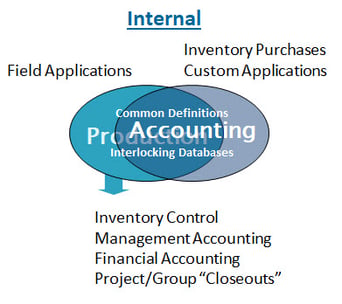 External Data
In a perfect world every software product would use standardized definitions for products and locations making communication between production and financial programs a straight-forward process. Since that's not how the world actually functions, FBS has built interfaces with over 60 feed mill, precision farming and packer formats. All use FBS's "data bridge" technology to incrementally "translate" the language of the other technologies. Last year we released our first real-time, API cloud interface with Conservis.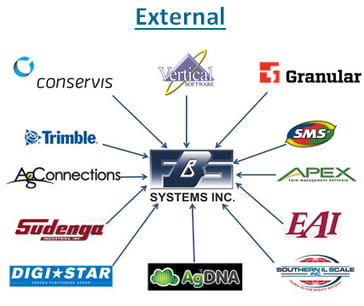 Next month we'll examine another technical "tool of the trade:" accounting automation. Meanwhile we invite you to watch our introductory "Farm Software Success Through FBS" video which helps you determine if you are ready for your own ERP.